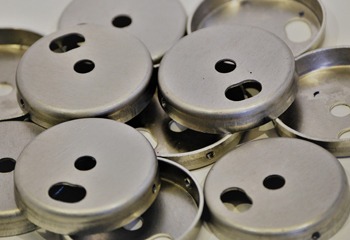 PROSTHETIC HAND ASSEMBLIES
DYNAMIC YARD MEASURING INDUSTRIES
SECONDARY HARDWARE INDUSTRY
HIGHLY ACCURATE ALUMINIUM LIGHT WEIGHT COMPONENTS PRODUCED FOR PROSTHETIC HANDS.
We produce these parts from L167 2014 T6 aluminium to offer both the strength, durability, that is required for parts which are so important to the end user.
The components are produced to high tolerances of +/- 0.01 mm on general tolerances and +/- 0.5° on the angular dimensions.
Hole sizes are produced to a tolerance of +0.05 mm to – 0.00 mm.
The parts are also heat treated to a solution & age harden finish to achieve the T6 condition and a hardness of 140 HV.
PIVOT BAR AND PIVOT BAR CARRIERS.
These highly accurate parts are used in the manufacture of window systems. The gauge of the parts has to be of a very high tolerance, +/- 0.002″ on the 1.55mm CR4 material and +/- 0.1mm on the HRP1 material which is bought at 4.9 – 5.1 mm thick.
All general dimensions are +/-0.25mm.
We finish the parts in a Delta Protekt VP KL 100 finish which gives 480 hours salt spray resistance.
AUTOMOTIVE COMPONENTS FOR TOYOTA
High quality and very accurate assembly parts for the automotive industry. These products were supplied to BOS Automotive Products for assembly into parts for Jaguar Cars and Toyota.
Both products were produced from CR1 EDDQ gauge correct mild steel with a tolerance on the material itself of +/- 0.05 mm. Using a 10 stage production operation to produce the actual pressing, the parts were then assembled using a Spin Riveter.
There was a 14 stage quality control checking procedure to ensure the high tolerances required on these parts were achieved, which were general tolerances of +/- 0.2 mm.